Okay so I been testing nip and I said that I do my faviort place to pass out after nip
table cellspacing="0" align="center" border="1">
Thirteen Things best place to pass out after hitting the nip

1. Right were you nipped up ( dont have to move just pass out)

2. my sun chairs Great place to bring a nip toy and then pass out in the sun

3. My cat rug( no subbling around to jump on any thing just pass out on the rug it quite commy)

4. The big bed ( plenty of sprawl at space importet after a good nip sestion)

5. the heated window napper ( stay warm and watch the birdy all nipped up the brids wil never look the same)

6. Lilly pink bed ( it quite cuddley place to nap after nip)

7. The scraching tree ( i love the second leavl it pefet placce just a jump to the napper and a jump to Lilly bed)

8. The desk bed ( pefect place becuse it were i spend alot of time and it has a desk light that is so cuddly)

9. In my cat house( perfect place becuse it quite and succled just what you need when you recovering form nip)

10) on the couch ( great spral out space)

11. In a tunnle ( this on for you rocky and skeexix)

12. in my basket bed ( other dark place)

13. a fresh basket of warm folded landy ( nothing like it it warm and cuddly and then mama laura will be happy wiff her new cat fur close when i am done

Links to other Thursday Thirteens!
1. (leave your link in comments, I'll add you here!)





Get the Thursday Thirteen code here!


The purpose of the meme is to get to know everyone who participates a little bit better every Thursday. Visiting fellow Thirteeners is encouraged! If you participate, leave the link to your Thirteen in others comments. It's easy, and fun! Be sure to update your Thirteen with links that are left for you, as well! I will link to everyone who participates and leaves a link to their 13 things. Trackbacks, pings, comment links accepted!

View More Thursday Thirteen Participants


About Me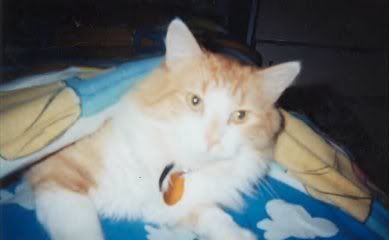 Hi it Mu shue Lilly Lu and Iris too we are 3 wonderful cats who have a great time Mu shue is best know as an King cat and Offial catnip tester Lilly Lu is know as a faison moddle and also spotty and also the red sox biggest fan' Iris- Mouise please just send more now
View my complete profile

Welcome to my Blog
Hi and welcome to my blog. I am Mu shue Pooh King Cat I am a very spoiled king Cat. I live with my Fur sister Lilly Lu and my my mama Laura. I was a stray sick cat when I was found on the Streets of Fitchburg Ma. With lots of TLC and good food and lots of chicken treets I have become a very spoiled old boy This blog is about my Life a Lazy spoiled has cat.

Kat Of the day
Lilly and Iris"s Blog
Give mu shue lots of love
*HUGS* TOTAL!
give mushuepooh more *HUGS*
Get hugs of your own

For the most luffing fursister
To Kayla voilet shy Princes cat
And now we lay you down to sleep
You're finally at rest
My love for you we'll always keep
You were the very best
You gave me joy for 2 great years
A memory for each new day
Then came the day of all my fears
The day you passed away
A part of me you took with you
And the pain i can not stand
But when this life on earth is though
I know we'll meet again
I love you sweet Kayla
Be at peace now at rainbow brige


link for kayla the best Fursister in the world
Meet Prince Mu shue Jr

Labels

Labels

Blog Archive